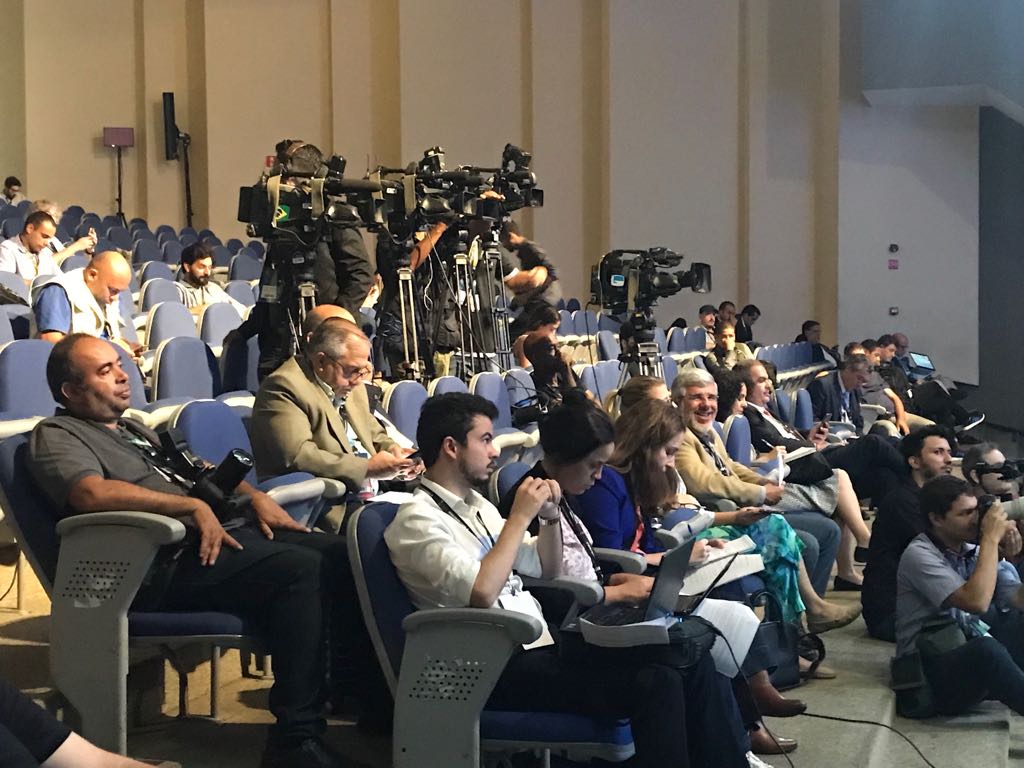 The journalist Sonia Bridi moderated the Circle of Conversation "Water in the Media", held in the Arena of the Citizen Village on the penultimate day of the 8th World Water Forum (March 22), at 4:30pm.
Sonia presented a story that developed on the Nile River to the Brazilian prime time TV show "Fantástico", which addressed the beginning of the formation of civilizations, which took place on the banks of this river. She also emphasized that the series was one of the most important of his life as a reporter, because of the importance of the rivers to the emergence of the society that we have today.
To elaborate on the themes presented by means of excerpts from the stories and scenes of the national drama, the following debaters were invited: Ana Toni, Phd in political science, João Paulo Capobianco, Phd in environmental Science, Flávia Rocha and Renato Cunha, a journalist.
Ana Toni spoke about the culture of abundance that is alive in Brazil, and how actions that are not directly related to water care, such as dissemination of sustainable energy models that can contribute to the improvement of water resources.
Capobianco reminded of the concept of being "eco-annoying", and how the media contributed to making the term derogatory. Flávia Rocha highlighted the capacity of mobilization of young people, which today is far greater than in previous generations. "This is a generation that wants to engage and has a lot to say. Therefore, if we look with affection to the public, there's a lot we can do," he pointed out.
Participants also stressed the importance of bringing knowledge to the public, so that knowledge generates engagement and sentimental attachment, and in that sense the media plays a pivotal role. In addition to aiding the memory, recording memories, such as the disaster in Mariana (state of Minas Gerais, MG - Brazil).
Still about Mariana (MG) and the tragedy lived by the local population, questions have been raised about economic development versus environmental preservation. Panelists emphasized the reflection concerning the privileges of large companies in the use of water, in relation to small enterprises, such as fishermen, in the case of Mariana, who also eek out their livings from the river. Still within the subjct, the table asked if the penalties were enough for that not to happen again.
The basic sanitation, the role of government and its importance to the population was also in the agenda of the debate.
Ana Paula stated that there is a good media coverage about water, but there is no mobilization of the population, unlike other subjects which move and generate agitation within society. Capobianco also stressed that good pieces of news should be disseminated to show to the public and the government that it is possible, but the media does not open much space for good initiatives.


​​​​​​​*Colaborator: Mathilda Saada