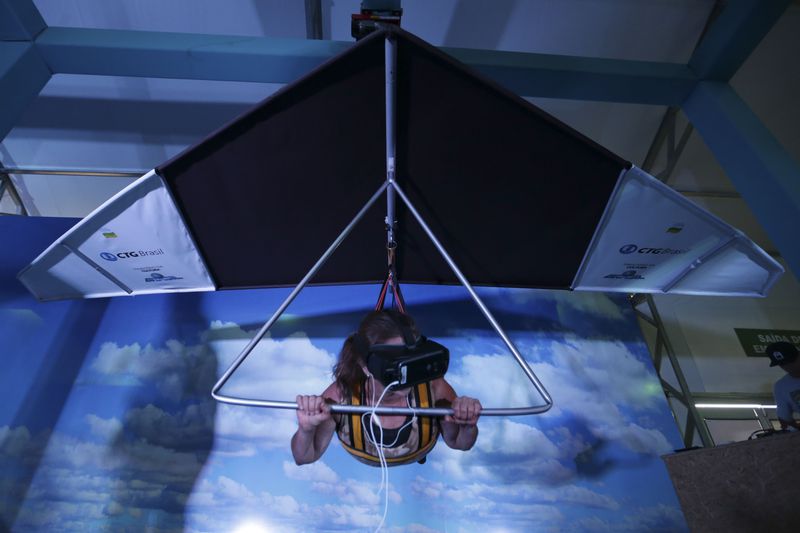 Hang glider flight with virtual reality shows the diversity of the waters of Brazil
This interactive attraction is the most popular of the Green Nation in the Citizen Village
The long line leaves no doubt: "Hang Gliding" is the most popular among the nine activities offered by the Green Nation. The curiosity of those waiting for their turn is great. The 9-year-old student, Letícia Santos Nunes, didn't know exactly what she would see with the virtual reality googles, but she was excited with the opportunity to get to know things through a new angle: "I never flew, I felt butterflies in my stomach".
The experience allows you to know the diversity of waters in Brazil on a flight that departs from Pedra da Gávea, in Rio de Janeiro, and flies by Iguazu falls, Manaus, the Amazon, and the region of Bonito, in Mato Grosso do Sul.
Reginaldo Barboza, owner of the company VR MKT, was responsible for the capture of images and for developing the three minute movie for visitors to watch during the activity. He says that the images were captured by a drone, in 360graus, and edited in a specific virtual reality software.
"The general idea is to show the waters, but with the excitement of flying on a hang glider. We expected a lot of people, but we're breaking a record," says Barboza.
By means of pulleys and steel cables, the gliders are suspended at a low height from the ground, about a meter. The feeling, however, is of an actual flight. "It was exciting, it felt like being in the actual places. Brazil has a lot of water," said the dentist Cristina Souza, who took the flight accompanied by his daughter. She said she found it all very safe and secure and that it was worth to face the line.
José Afrânio Fernandes is one of the persons responsible for the maintenance and preparation of the virtual-reality goggles. He points out that not only children were surprised with the experience: "we received a 78 years old gentleman yesterday. It does not matter if it is a child, an adult or an elderly person, all of them were amazed and got out of there very happy".
Green Nation is a movement of awareness raising and mobilization of the society for the environment preservation. This attraction was brought to Brasilia in its fourth edition. The "Hang Glider" attraction was especially designed for the World Water Forum.