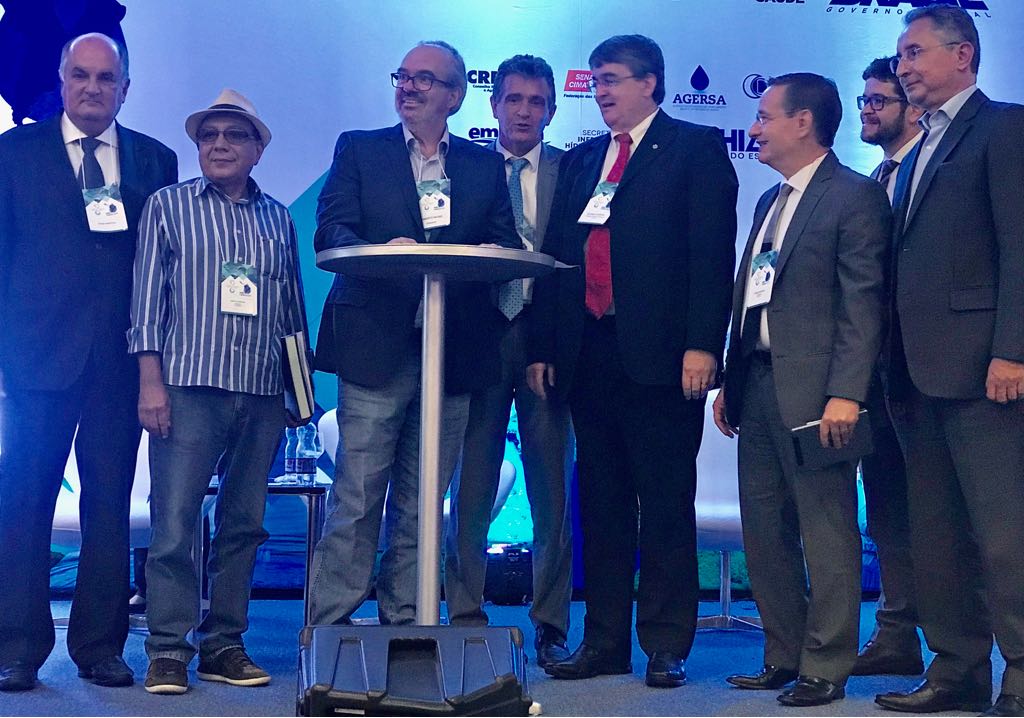 The sixth edition of Towards Brasília brought 550 people together in the city of Salvador (BA), on Friday (02). The preparatory event for the 8th World Water Forum discussed the sharing of water and sanitation challenges at the Senai/Cimatec Auditorium.
The Vice-Governor of Bahia, João Felipe de Souza Leão, opened the event recalling that access to water changes lives, either through large or small deeds, such as construction of simple cisterns.
The structure of the 8th Forum was presented to the participants by Irani Braga, co-chair of the Regional Process, and by Lupércio Ziroldo, chair of the Citizen Forum.
"Our mission is to broaden citizens' participation in the process of water management. Two of the largest aquifers in the world are in Latin America, the average citizen needs to participate in the discussion of these issues," said Ziroldo.
Braga spoke about the thematic grid of the event. "We will have a session to discuss how the excess or lack of water impact migration and how people settle in different regions of the world," he said.
The second panel discussed the multiple uses of water, sharing and conflicts. It was mediated by Senator Roberto Muniz and attended by Cássio Peixoto, Secretary of Water and Sanitation Infrastructure of Bahia (SIHS/BA); Sergio Ayrimoraes, Superintendent of Water Resources Planning from the Brazilian Water Agency (ANA); Alexi Portela, Vice President of the Industries Federation of the State of Bahia (FIEB); Humberto Miranda Oliveira of the Agriculture and Livestock Federation of the State of Bahia (FAEB); Jonas Dantas of Santos, Vice President of the Regional Council of Engineering and Agronomy (CREA/BA); and José Geraldo dos Reis Santos, Secretary of Environment (SEMA/BA).
The Group discussed strategies to successfully deploy the Water Safety Plan presented by ANA and eventually signed a letter of intent entitled "Water Security Pact in the State of Bahia."
At the third table, the topic was sanitation and its challenges. The participants of the debate, were Rogério Cedraz, Bahian Company of Water and Basic Sanitation (BASES); Mario Augusto Parente Monteiro, Coordinator of the Regulatory Agency for Sanitation of Ceará (ARCE); Helder Cortez, Water and Sewage Company of Ceará (WNS); Marcos Vinicius Bulhões, CEO of Environmental and Water resources Company of Bahia (CERB) and Emanoella Ribeiro de Oliveira, from the 'Applause for Life' project.
Emanoella Oliveira talked about solutions for the water shortage in semi-arid and stressed: "We have a long way to go in this area, particularly regarding rural populations, which often are forgotten".