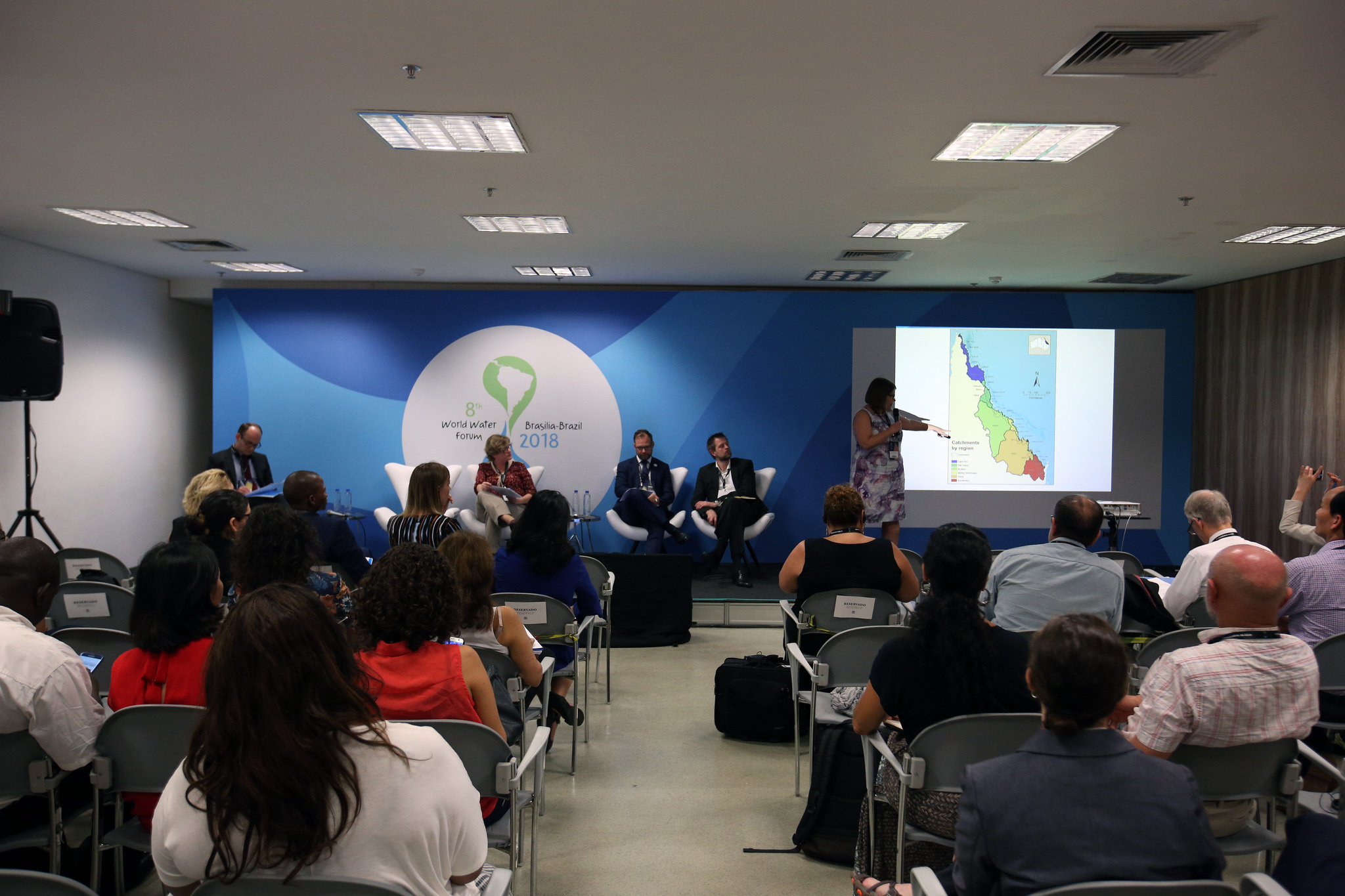 On World Water Day, the 8th World Forum addressed water quality management policies in the panel "Emerging Policy Solutions to Manage Water Quality from Ridge to Reef". The largest event on water resources has already received more than 56 thousand people with the same objective, to learn innovative ideas and share experiences in order to improve the water scenario, besides contributing to the rational use of life's most important element.
The objective of the session was to demonstrate the complexity that legislators face in managing water quality, through examples of innovative but still very limited policy projects. "It takes long-term investments, as well as connections between environmental preservation concepts, to get back to the ecosystem, to have clean water, food and health for all," said GEF International Waters coordinator Christian Severin.
The 17 global objectives for water quality management were addressed: Eradication of Poverty, Zero Hunger, Good Health and Well-being, Quality Education, Gender Equality, Clean Water and Sanitation, Accessible and Light Energy, Decent Work and Economic Growth, Industry, Individuation and Infrastructure, Reduced Inequalities, Climate Action, Underwater Life, Life on Land, Peace and Justice, Strong Institutions and Partnerships for goals. Panel moderator Jakob Granit, general director of the Swedish Agency for Marine and Aquatic Management (SWAM), highlighted three objectives to be focused on during the debate: Clean Water and Sanitation, Life Under Water and Life on Land. "All points have connections between those three, but we need to focus on goals. What we do on land has an impact on the sea", he stressed.
The panel also showed that each site has its singularities to define concepts and implementation of governance structures. Therefore, it is important that adequate adjustments be made to find incentives, sources of investments, new technologies and training to improve water quality, according to demographic and climatic changes, among other local variables.
The session was attended by Dr. Jakob Granit, Director General, Swedish Agency for Marine and Water Management (SwAM); Christian Severin, Coordinator, GEF International Waters, USA; • Professor Carin Mühlen, Coordinator of the Technical Chamber / Professor, Medium Paraiba do Sul River Basin Committe - CBH-MPS (Brazil); Elisa Nichols, Executive Director, Office of the Great Barrier Reef, Department of Environment and Heritage Protection (Australia); Ms. Yolanda Lopez-Maldonado, Ludwig Maximilian University of Munich, PhD student, Mexico; Ms. Bui Thi Thu Hien, Marine and Coastal Resources Programme Coordinator IUCN – International Union for Conservation of Nature; Phillemon Mahlangu, South African Department of Water and Sanitation (DWS); Lisa Kirkland, project manager for the Jamaica Project, the National Environment and Planning Agency, Jamaica, and Birgitta Liss Lymer, Programme Manager, Source to Sea Action Platform.
No Dia Mundial da Água, o 8º Fórum Mundial abordou políticas de gestão da qualidade da água, no painel "Soluções políticas emergentes para a gestão da qualidade da água das nascentes aos recifes". O maior evento sobre recursos hídricos já recebeu mais de 56 mil pessoas com o mesmo objetivo, conhecer ideias inovadora e compartilhar experiências, em busca de melhorar o cenário da água, além de contribuir ao uso racional do elemento mais importante à vida.