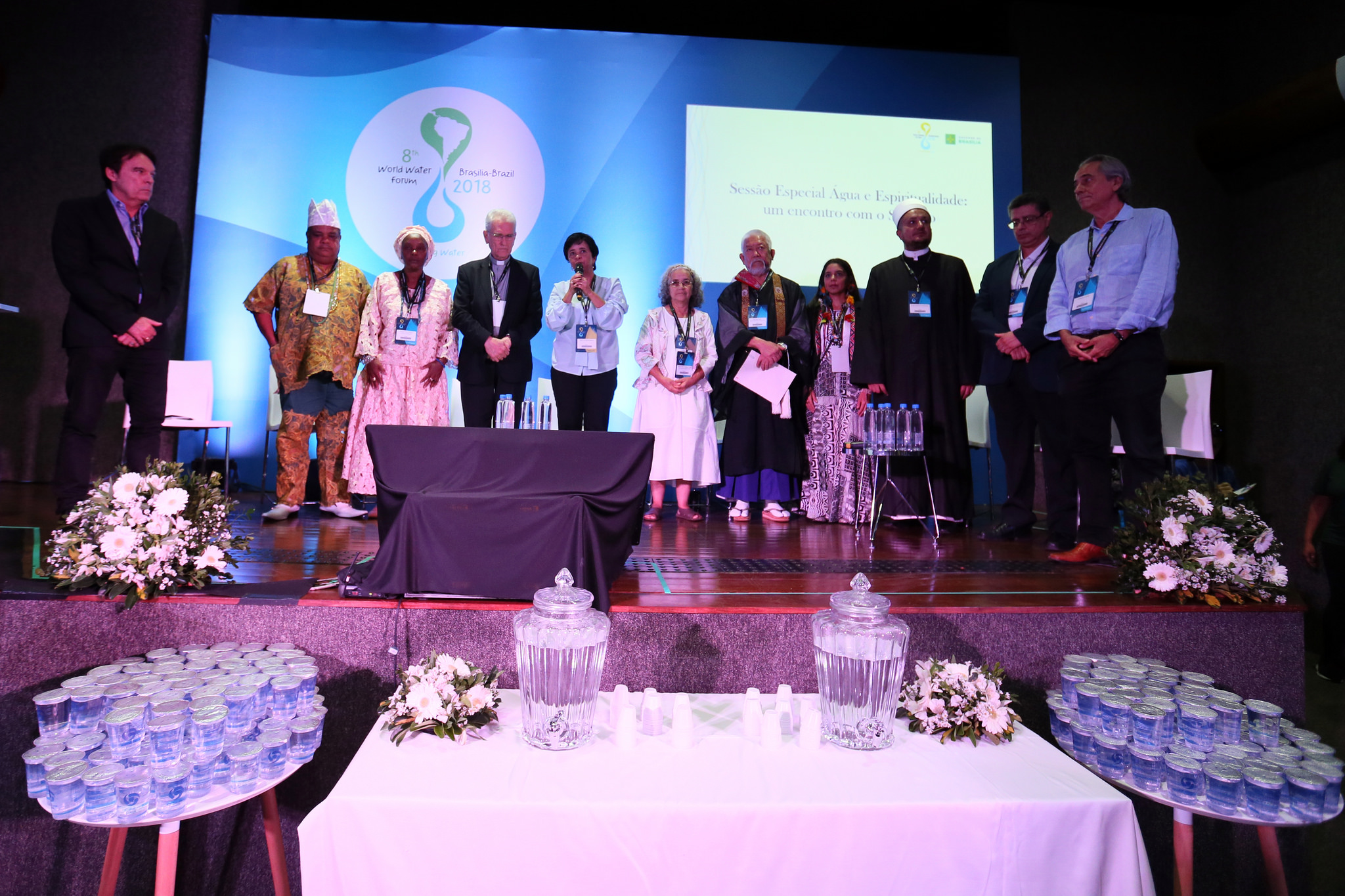 Eleven spiritual and philosophical leaders met at the 8th World Water Forum to discuss the participation of water in their beliefs, doctrines and their knowledge base. The session, which was a realization of the Government of the Federal District, integrated the programming of the Forum's schedule Special Sessions and happened in the afternoon of the 22 of March.
Present were representatives of the Catholic, Evangelical, Muslim, Camdomblé (African Roots) religions, the Spiritist Doctrine, Indigenous roots and the Universidade da Paz - Peace University (which has a tendency towards peace philosophy).
Friar Leôncio Stein, National Secretary of the National Conference of Bishops of Brazil (CNBB) recalled that baptism, Christian initiation, is given by water. Stein, noting the lack of Rabbi, recalled that, Judaism preaches "from the waters were born all things". Pastor Wagner Pazzono, of the church Sara Nossa Terra, quoted the passage of the Bible in which Jesus asks: "Take care of my sheep". For him "the sheep represent everything that comes from God, and this includes our water," he concluded.
Sheik Abdel Hamid Metwally, President of the Council of Theologians for Islamic Affairs of Brazil, believes that "Water goes to the sky (evaporates), but God only sends water to those who have faith".
In indigenous religions water is present as the sacred feminine. "Water is the cradle. Water needs to have its right to life", said Tainá Marajoara. Maria Alice Campos Freire, member of the council of the 13 Indigenous Grandmothers, declared that "water reveals transcendental truths" and that she prescribed for those she gave consultation to observe an igarapé (the Amazon river bends). "It's a mystery where the water comes from and where it's going. So is our life," she stated.
In Buddhism there is a legend that the earth was fertilized by a drop of water. "Water is life and life can not be a merchandise", said Monk Sato of the Pure Land Buddhist Center.
Babá Pece of Casa de Oxumaré in Bahia said that in the terreiros (Candomblé temples) it is customary to thank for the water used and that for them water is loaded with symbols of spirituality of the sacred. The Ekedji Rosy Mary, also from Casa do Oxumaré, added that "we all came from the womb and in water we are created"
"In the spiritist doctrine, water can be magnetized and turn into a remedy," recalled Arismar Leon, a representative of Spiritism. Roberto Crema, Dean of Unipaz, recalled that "the water teaches us to renew", and that peace is the opposite of stagnation. "The resources for change lie within each of us"
The session was mediated by Márcia Rollember, first lady of the Federal District.