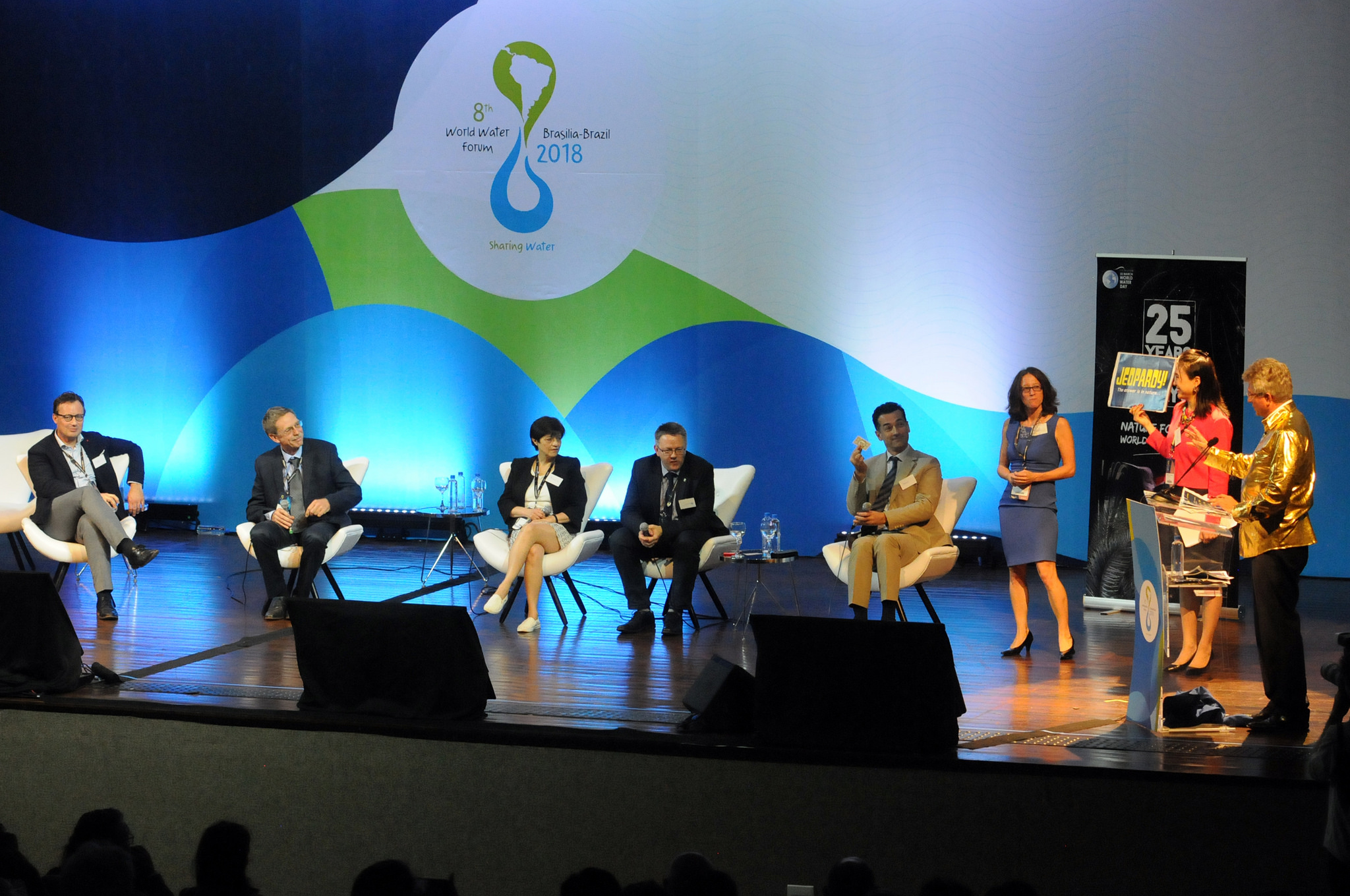 On the fourth day of the World Forum, a panel was held to celebrate the 25th World Water Day. There was a "Happy Birthday To You", jokes with experts answering questions related to the theme and laughs of the audience. But the time was also for reflection. The celebration addressed developments in water treatment and what can be done to avoid waste or to learn how to reuse it hygienically.
The panel was coordinated by representatives of the United Nations Educational, Scientific and Cultural Organization (UNESCO) Lis Mullin and Sarantuyaa Zandaryaa. One of the highlights was the presentation of the Water Development Report formulated by UNESCO in partnership with other institutions.
"Since 2003, we have made this report, always relating it to some other factor, like water and employment, or water and sustainability. We have to make certain that all urban areas are adapting to nature so the ecosystem is not affected. We have to find critical solutions within nature", said Stefan Uhlenbrook, UNESCO's coordinator and director. The coordinator of the Report also said that some solutions pointed out may frighten some people because they seem impossible to realize, but it is all a matter of study.
Neno Kukuric, director of the International Center for Underground Waters, took advantage of the occasion to stimulate the exchange of knowledge. "It is important for people to know that if a country shares something positive in their region, that methodology can be adapted to different biomes. Everything is useful for the growth of the world as a whole".
Joakim Harlin, water and international development professional, member of the United Nations Development Program (UNDP), issued another warning to society. "We have developed a report with the ambition of increasing understanding and inspire action. We want people to open their eyes, understand what nature is doing, that can even provide employment. Swamps, forests, rivers. We need to protect all this", he praised.
Mansour Faye, Senegal's minister of hydrology and sanitation, also spoke on the issue of improving life's expectancy and quality. "We can not let climate change get in the way, we need to be ready. We have to use water rationally. Nature based solutions can save some vulnerable sites in terms of basic sanitation". Senegal will receive the 9th World Water Forum three years from now.
Attention to vulnerable populations
Representative of the Indigenous Women and Biodiversity group of Guatemala, Ana Perez spoke on behalf of the social groups, of which she is a part, and are usually underrepresented. "Nature is not ours. We are part of it. Rivers, lakes and seas are our elder brothers. We always turn to them. How would we bathe, cook, do our hygiene without rivers etc? ", she asked.
Continuing her speech, Ana Perez remembered Rio de Janeiro councilwoman, Marielle Franco, shot dead last week, to say that the human being should not to afraid to fight to reach the world it idealizes. "I want to make a special mention to the women who are and were activist warriors, putting the water first. But always within the whole of nature. It also fits the stateswoman murdered here in Brazil. We must fight for all, but put the most forgotten forward, as well as the Indians", she addressed, receiving applause from the public.
Hosts attending the Water Party
Benedito Braga, president of the World Water Council, reiterated the importance of the specific date: "It is very good to celebrate this day with such a forum. We have to be aware of our roles. I am happy because, in the past, water and nature were subjects treated only by specialists. More than 200 parliamentarians from around the world here show that the governing authorities have changed the mentality and are also aware of these issues", he addressed.
Sarney Filho, Brazil's Environment Minister, spoke about, among other things, some matter of concern. "We are prodigals in natural resources, but we know that nature plays tricks on us. Therefore, we have to keep an eye on all biomes, which Brazil has the most varied. We have to do hard work. Anyway, we have to evolve, but we are making efforts".
Governor of the Federal District, Rodrigo Rollemberg believes in a change of vision due to the excellent level of debates in the Forum, which ends tomorrow. "From this Forum, we will have a worldwide legacy in the sense that water should become the focus of public policies. There is nothing that comes close to water in importance to guarantee sustainability and quality of life for this generation and the next".