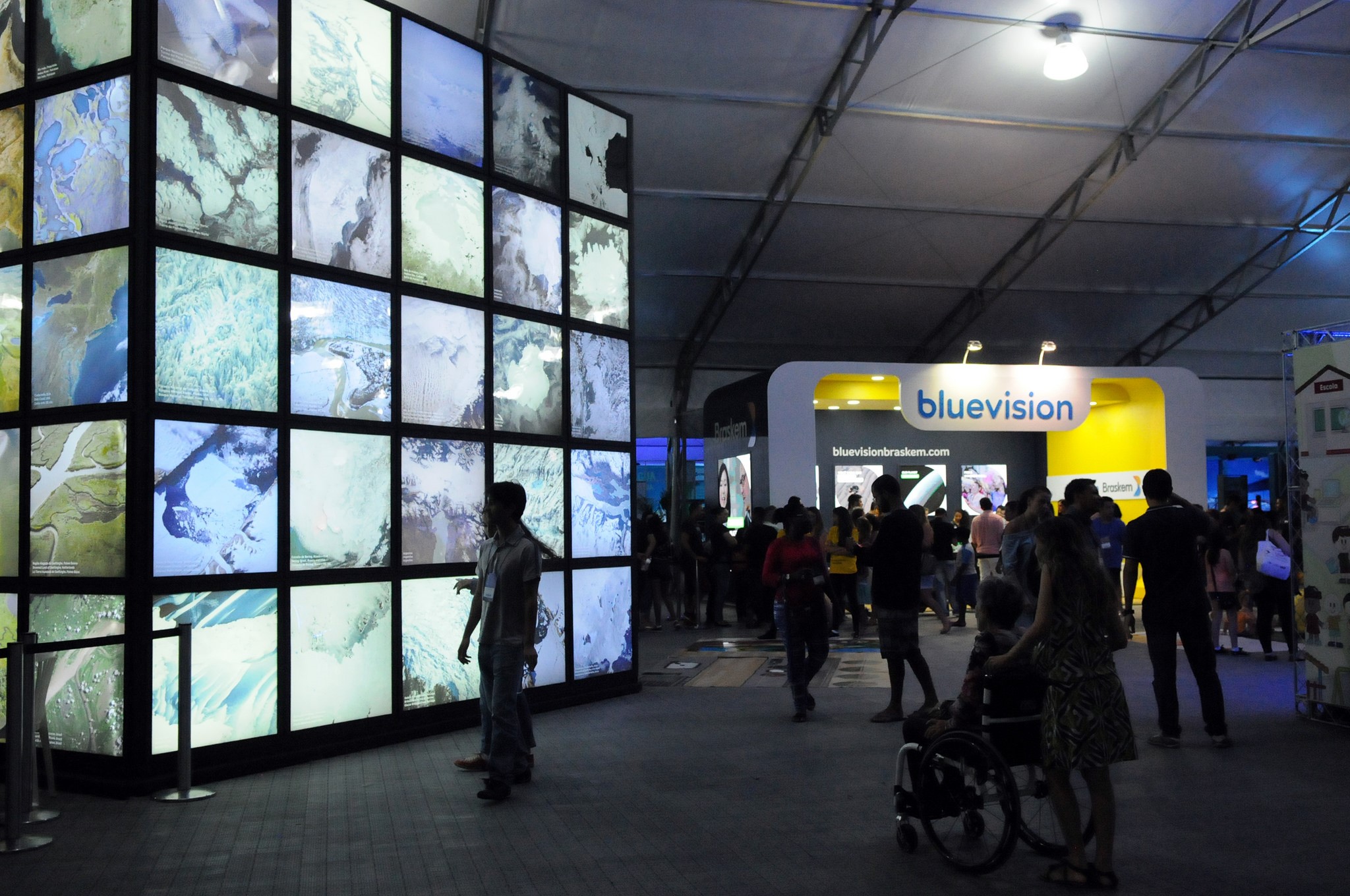 A cube covered by a satellite photo showing Earth as seen from space. This is the proposal of the facility, "Waters of the Planet", promoted by the Museum of Tomorrow in the Citizen Village of the 8th World Water Forum. This attraction may be checked out by the public fo free until Friday (March 23), in the area outside of Mané Garrincha
Inside the cube, virtual reality goggles and swivel chairs are used for watching a 10 minute video, divided into two parts: one regarding water quality and another showing the impact of human exploitation on the environment. The attraction, sponsored by Shell, allows groups of 15 visitors to check out the experience.
The first part addresses the challenge of maintaining the quality of water in the next 50 years. "It is really a challenge, since the forecast that in 2050 we will have more plastic than fish in the oceans," says the manager of the museum's exhibits, Leonardo Menezes.
As to the second attraction, called Anthropocene, reflects the geological era dominated by humans. The film brings a reflection on the current scenario, in which human activity modifies drastically river beds, the atmosphere, the climate and biodiversity on the planet.
Since 2015, the Museum of Tomorrow has already received more than 2.6 million visitors, making it one of the most visited of the country. The installation presented at the 8th Forum is inspired by the Main Exhibition which is in the headquarters of the museum, in Rio de Janeiro.
Menezes said that the water theme will go beyond the 8 Forum and will be featured in the programming of the Museum of Tomorrow throughout 2018. "Five speakers, three Brazilian and two foreign, will participate in an event at the headquarters [of the museum], in Rio de Janeiro," says Menezes. The debate about global warming and water will be held on the 24th of March, one day after the ending of World Water Forum. Registration can be done on this page: https://museudoamanha.org.br/pt-br/seminario-aguas-e-mudancas-climaticas-desafios-mundiais-para-2030.
The Museum of Tomorrow
Elected the best museum in Central and South America by theLeading Culture Destinations Awards, the british "Oscar" in the sector, the Museum of Tomorrow, a space managed by the Institute of Development and Management, has established itself as one of the main tourist and cultural attractions of the country in its first year of operation.
The venue was the most photographed in Brazil in 2016 and, according to Instagram, it was on the first place among the most visited institutions in the country, with the mark of 1.5 million visitors.