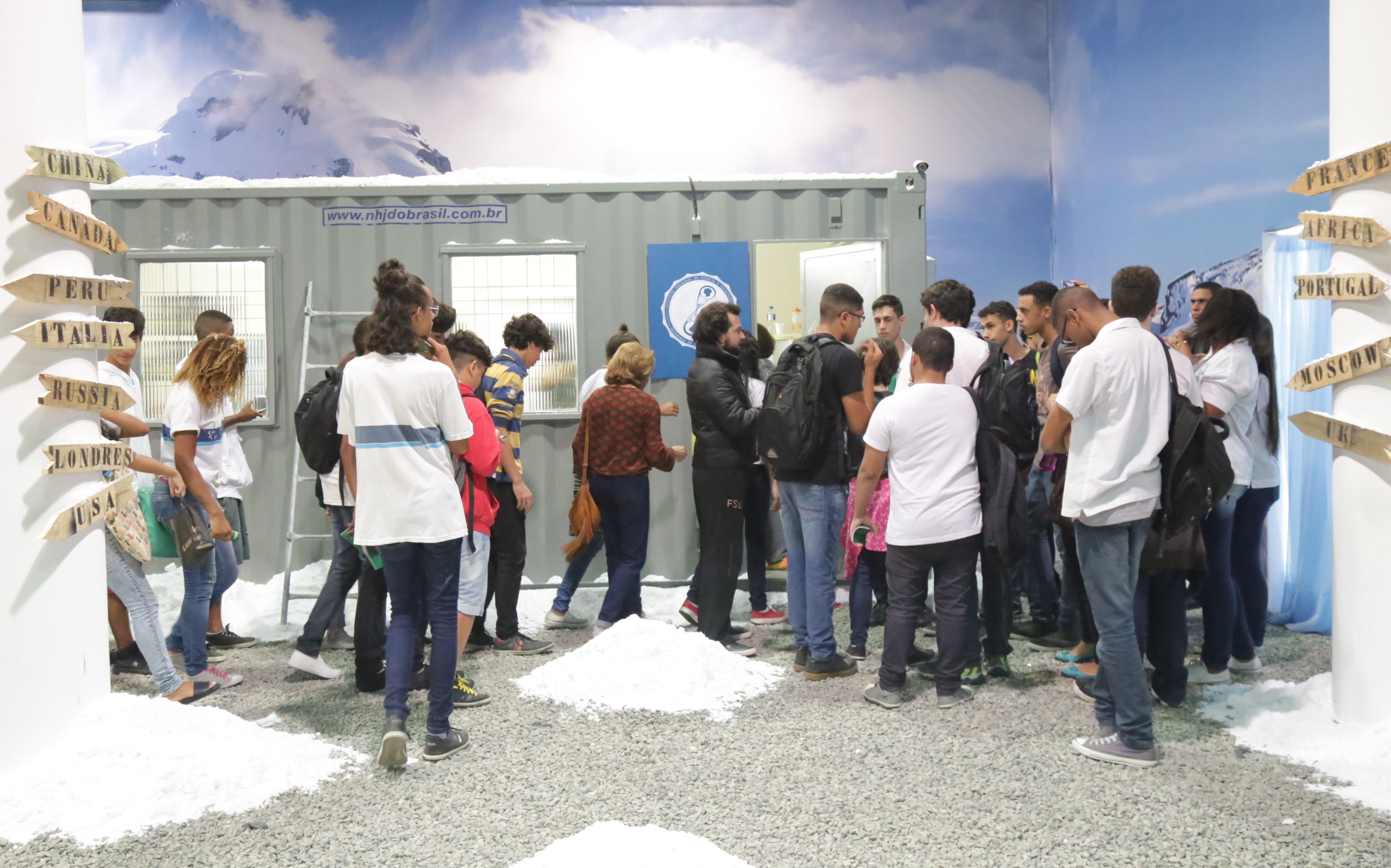 To address topics as water and sustainability through a series of interactive, sensorial and emotional experiences, multimedia festival and moments of dialogue and fun, aiming to incite new attitudes in people's daily life – this is the proposal of Green Nation, a Brazilian movement created in 2012. In its fourth edition, the first outside Rio de Janeiro, it will occupy the Citizen Village, a free area open to the public at the 8th World Water Forum, from March 17 to 23, in Brasilia.
The activities approach water in its various forms, namely river, sea, ice, riparian forest, food, transportation, recycling, innovation and technology. Visitors will go on a tour through Green Nation's nine facilities, which will cover about 2,700 m2 of the Citizen Village, an 1h20min journey immersing into the proposed topics.
"We believe sustainability is an attitude. To understand it, one needs to experiment it. When you experience it, you never forget it, and change your habits, because you understand your and other people's lives depend on that. To ensure the planet's future now, Green Nation believes it's necessary to engage people through emotions and innovations. At the World Water Forum, our mission is to show sustainability in all its senses," highlights the director general of the movement, Marcos Didonet.
SENSATIONS
At Green Nation Space, visitors will be able to get to know and interact with the following facilities: Antarctic Station, Submarine, Ship, Hand Glider, Forests of the Sea, Water Shortage!, Plant Water, PET turns into PET, and Flavors and Senses.
There will also be co-creation workshops, multimedia festival, film exhibition, maker workshops, design thinking workshops for children, storytelling, and much more.
HIGHLIGHTS
At Submarine section, the public will be immersed into the deep ocean through a multimedia environment and will have contact with the exuberant marine fauna and flora, which suffer with pollution, waste and illegal fishing.
At Hand Glider space, there is a virtual reality simulator. Visitors will "fly" through an exciting journey to places in Brazil where water is the leading character in transportation, food, energy generation, and much more.
The public will also get to know closely life in extreme cold conditions at Antarctic Station, which will replicate the lab and housing of scientists in the icy continent.
At Flavors and Senses, participants will taste different juices and find out the packaging secret of ingredients, which goes far beyond food protection. You will experience all of this while being blindfolded.
The road to recycling and the opportunities for plastic reuse will be present at PET turns into PET section, which shows the importance of recycling in an uncomplicated manner and its relationship with the water economy and waste reduction on the planet by using a PET recycling machine.
SPACES AND ACTIVITIES
The universe of business and startups will not be out of the program. On March 19 - 21, Green Nation will host the Eco-innovation Camp: water challenge, targeted at entrepreneurs who have innovative ideas about water use. This is a partnership with Sebrae and UN-Environment that will award the most creative and sustainable proposed solutions to water issues in the industry, cities and agriculture.
Co-creating the Future – In these workshops, participants will develop new approaches to attitudes that need to change in order to build a sustainable and truly new society. Each person will bring their ideas, which will be discussed to find out how to put them in practice.
Arduino Flamingo of Drought – In this maker workshop, the Flamingo of Drought will be created, a humidity sensor using Arduino (an electronic open source and single plate hardware prototyping platform). Each participant will leave with their own sensor for plant vases and small gardens, which will indicate when plants need to be watered, thereby optimizing consumption.
Design Thinking for Children – In this maker workshop, a process of reflections about water consumption at the environments closest to them (home, school, etc) will be experienced, in addition to the prototyping and creation of solutions for water reuse, recycling and reduction (3Rs) at these places.
Storytelling – Douradinho Project invites children to feel, think and act in the defense of rivers and riparian forests based on the book "Friend Can, Friend River"*. The "Planet's Crew" Project will launch the book of the first adventure, telling the story about "How Everything Began". Also, with the e-book "Speak up Bia!", the project will show how the crew cleaned the river. The writer, who has potiguara ethnic origin, Eliane Potiguara, will also be part of this program with her book "The Healing of Earth", story about the nature, men, origin of things, and wisdom of ancestors.
Roundtable "Water in the Media" – On March 22, between 4 pm and 6 pm, in partnership with TV Globo and mediated by journalist Sônia Bridi, authors of soap operas and TV miniseries will discuss at the Citizen Village arena how water issues can and must be addressed in drama and other audiovisual products.
Multimedia Festival – Until March 15, Green Nation is receiving photographs and fiction, documentary and animated short films/videos in their official website. The winners of these categories competing for the "Green Nation Trophy" will be announced on the last day of the event.
Film Exhibition – Premiere exhibition of the series "Survivor Manual for the 21st Century," episode "Water that comes from the sky," with the presence of director João Amorim and the actor and TV host Marcos Palmeira. The fourth edition of the exhibit will provide the public with cross-cutting views of several water issues. March 21, at 6:30 pm.
ABOUT GREEN NATION
Green Nation is a Brazilian movement that brings together experimentation, sensorial sensations, emotions, interactivity, entertainment and innovation to discuss with society the changes required to consolidate new scenarios for people, businesses and the environment.
Actions are structured in three areas: sustainability, with activities focused on the environment and sustainable and just cities; citizenship, concentrated on diversity, information technology, communication and social businesses; and well-being, which considers health and encourages sports and quality of life.
*Books' and projects' titles and names have been loosely translated.