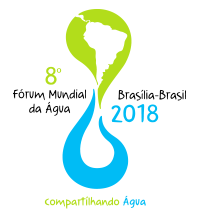 The second batch of registrations for the 8th World Water Forum was extended to March 5. You can register at the event's website. More than 7.5 thousand people from 150 countries have already confirmed their attendance at the world's largest water event.
The 8th World Water Forum takes place on March 17-23 in Brasilia. Around 45 thousand people are expected to visit the Citizen Village, a free entrance space of entertainment and education open to the entire population. More than ten heads of State and Government are expected to attend.
In addition to Brazil, the list of participants includes countries such as Australia, Belgium, Indonesia, Argentina, Canada, Mozambique, China, Denmark, Japan, France, Palestine, Iran, Iraq, Israel, Italy, Mexico, Portugal, Serbia, South Africa, Colombia, Uruguay, Bolivia, Peru, Ethiopia, the United States and Turkey.
The event will bring together representatives of governments, companies, non-governmental organizations, academia and civil society. Brazil is the first country in the Southern Hemisphere to host an edition of the World Water Forum.
The Forum will have more than 300 thematic sessions and will bring to Brasília the greatest experts on water issues. The agenda includes discussions related to women, indigenous people, diversity, urban rivers, agriculture, wetlands, sanitation, climate change, energy, among others.
The water situation in the regions of America, Europe, Asia and Pacific, Africa, the Mediterranean and the Arab Region will also be part of the discussion.
8th World Water Forum
The 8th World Water Forum is organized in Brazil by the World Water Council (WWC), by the Brazilian Ministry of the Environment (MMA), represented by Brazil's National Water Agency (ANA), and by the Government of the Federal District, represented by the Regulatory Agency for Water, Energy and Basic Sanitation of the Federal District (Adasa). The Brazilian Association of Infrastructure and Basic Industries (Abdib) is a member of the National Organizing Committee (CON).
The seven previous editions were held in Marrakesh (Morocco, 1997), The Hague (Netherlands, 2000), Kyoto (Japan, 2003), Mexico City (Mexico, 2006), Istanbul (Turkey, 2009), Marseilles (France, 2012), and Gyeongju and Daegu (South Korea, 2015).