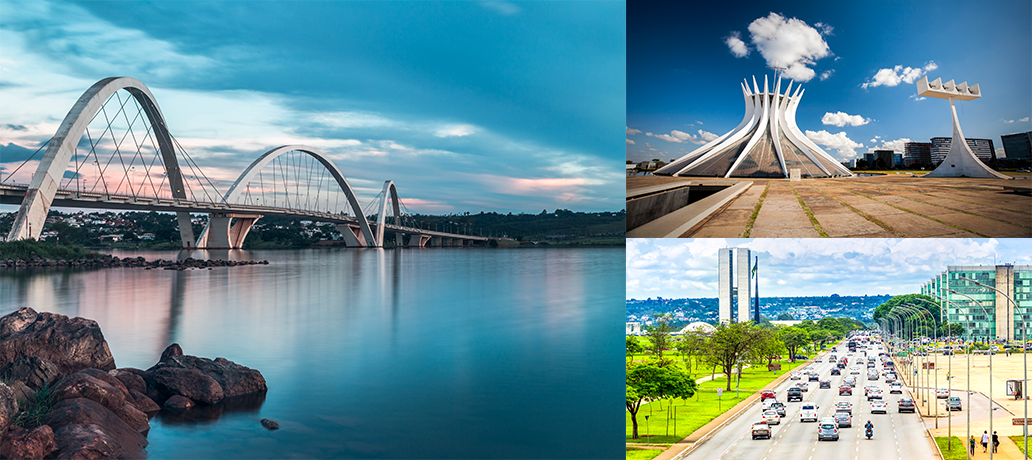 Brasilia was chosen as the venue for the event because it is the capital of Brazil, headquarters of the Federal Government and the national political and decision-making center. It is also the country's diplomatic center, home to a hundred embassies and various international agencies. Unesco has declared this modern city to be a World Heritage Site and it is endowed with the logistics conditions, infrastructure, hotel installations and accessibility required by an event of this size. For the capital city of Brazil, this is an opportunity to strengthen its water resource management system and that in itself will constitute an important legacy of the event for the host city.
Brasilia's History
Brasilia, the capital of the Federative Republic of Brazil, is located in the territory of the Federal District, an area of 50 thousand square kilometers delimitated by President Café Filho in 1955. The city was inaugurated on April 21, 1960, by the president at that time, Juscelino Kubitschek. Historically, it is the third city to be the capital. After its inauguration, the transfer of all the main bodies of the federal government administration from the previous capital (Rio de Janeiro) to Brasilia began and it became the headquarters of the three branches of Federal power: the judiciary, the legislative and the executive branches.
On October 2, 1956, President Kubitschek signed the first Act to be ever signed on the site of the future capital. Urban planner Lucio Costa based the layout of Brasilia's urban project on two axes intersecting at right angles and forming a cross.
The two main axes were called Eixo Rodoviário and Eixo Monumental. The Eixo Rodoviário was to cut through the residential areas and was slightly curved; giving the cross the shape of an airplane, which gave rise to the names Asa Norte and Asa Sul – North Wing and South Wing. The other axis, 16 kilometers long was destined to cut through areas dedicated to monuments and autarchies. It was divided in the following way: along the eastern side there would be public buildings and government palaces, in the middle there would be the central bus station and the TV tower and, along the western side, buildings of the government of the Federal District.
Lucio Costa's plan was designed to accommodate 500,000 inhabitants by the year 2000. Today the population has already passed the 2.5 million mark; five times greater than the number planned for. The name Brasilia was suggested as far back as 1823 by José Bonifacio and put before the General Constituent Assembly of the Empire 150 years after Chancellor Veloso de Oliveira had presented the idea to the Prince Regent.